We've been working over the past 5 years to develop new courses for our students. Mathematical Literacy is the first new course, and is doing very well; Algebraic Literacy is the second course, and is just beginning to get 'traction'. To help our students, though, we need a new plan … especially for general education.
Take a look at this map: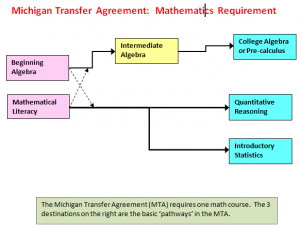 The Michigan Transfer Agreement (MTA) is designed to improve the transfer of general education courses in Michigan. The MTA requires one math course; students can use one of the 3 courses 'in blue': college algebra, quantitative reasoning, or introductory statistics.
Notice that students can meet their general education math requirement with one developmental course and then the MTA course … unless they need college algebra or pre-calculus. We have embraced the pathways concept, with direct benefits to our students.
This is good news for students in Michigan. I hope that other states will create similar structures.

Join Dev Math Revival on Facebook: